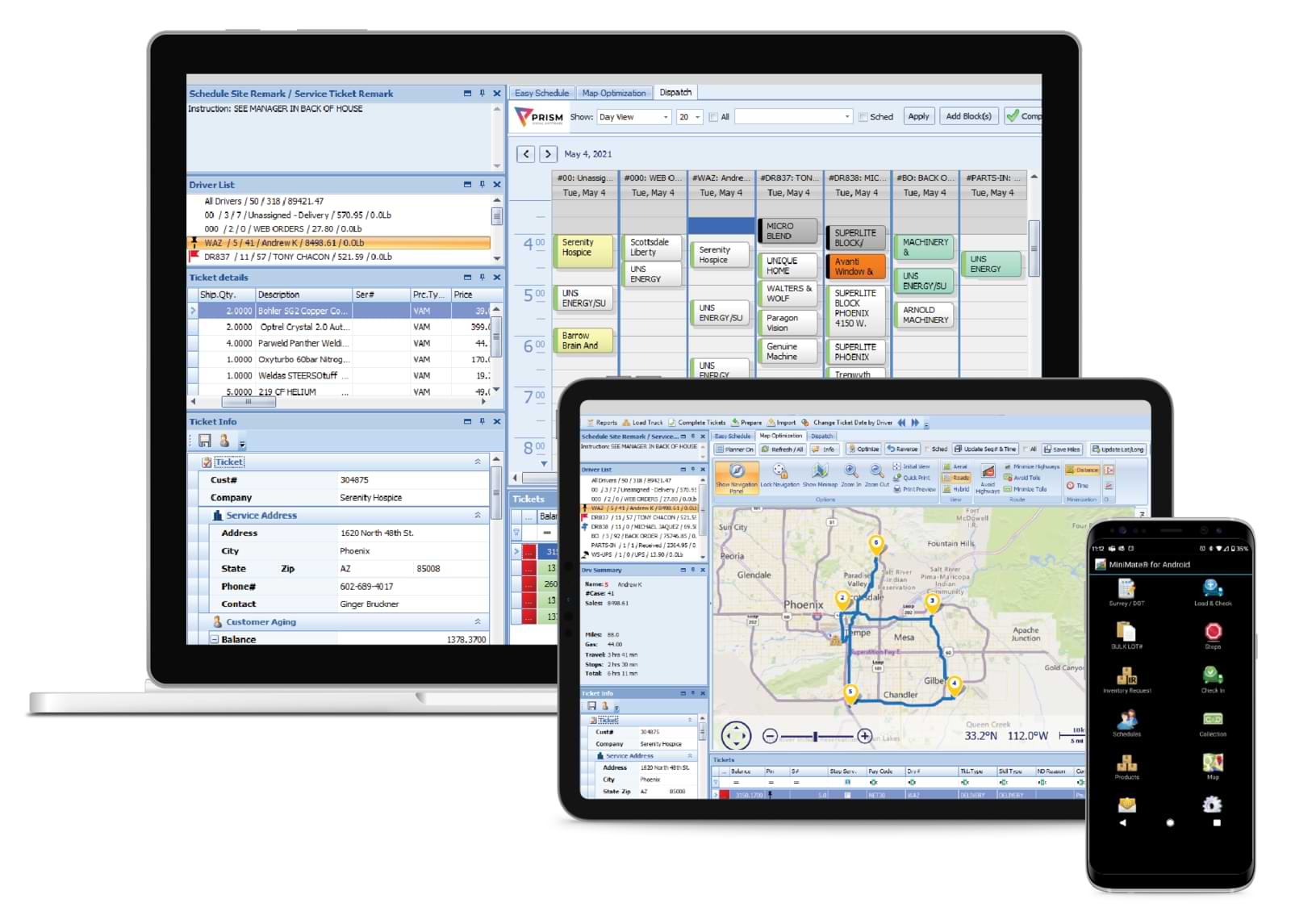 ---
Automate your day-to-day Gas & Welding operations with an all-in-one field delivery management platform.
Manage Deliveries & Field Service
Mobile hard-goods and bulk gas delivery
Plan, track, & optimize routes
Cylinder Exchange
Tech equipment Service
Automated text & Email Communication
Rea time updates & Visibility
Asset Management & Inventory Control
Equipment & cylinder tracking
Fill plant operations
Barcode scanning & lot control
Rental billing
Purchasing and Receiving
Multi Warehouse, bin, & store support
Sales & Customer Relationship Management
Mobile Order taking & Route Sales
Point of Sale
E-commerce & Customer web bill
Credit Card & ACH auto pay
Customer pricing & contract management
Automated customer communication
GET A QUOTE
"Carbonic Services chose Prism Visual Software's software to ensure we pass new FSMA government regulations. The suite integrates with QuickBooks, mobile invoices and manages all equipment and tank rentals. It tracks our Co2 Gas Lots received at the gas receiver and delivered to each customer in case we have a recall. Once implemented, we were audited by a global restaurant chain and passed with flying colors. Not only did we retain their business, they offered us more territory. Thank you Prism!"
Scott Coutts
Carbonic Services

---
Grow revenue with a Gas & Welding Distribution Software Platform that gives you greater control of your operations
SCHEDULING
Plan and adjust field employee workdays by taking into account their experience and labor costs. Schedule sales representatives, drivers, service specialists, and equipment in one dashboard. View multiple schedules at a glance and monitor work order progress. Run vending alongside your services and customize the management of your business lines.
TANK MANAGEMENT & RENTALS
Easily track cylinders and gas lots inside them. Support all tank processes with mobile technology and scanning: Fill the tank, load truck, deliver tanks, pickup tanks, and check-in. Repeat. Generate tank cylinders (and bulk tank asset rentals) with one click
INVENTORY CONTROL
Track and manage all hard goods, gas cylinders and equipment by serial numbers in multiple warehouses and bins. Tag all assets with barcodes and use Prism's mobile warehouse management system to support real-time receiving, transfers, and more.
CRM & PRICING
Service customers in 5 ways with the module: walk-in counter sales, inbound call center, outbound call center, mobile route sales, and order taking. Support customers with easy access to customer-specific pricing, aging balances, previously ordered products, etc.
MOBILE APPS
Coordinate drivers and sales teams on-the-go for more effective operations in the field. Monitor customer order status, manage deliveries, track service specialist time, control business costs, and create quotes to sell products in the field with the MiniMateTM Android app. Issue email and print invoices, collect mobile payments, and capture customer signatures in the field.
WEB STORE & BILL PAY
Drive more sales by adding Web Store to your website and enabling your customers to securely log in, browse your inventory, place product orders and service requests online. Customers can shop by categories, keywords, or sales history. With integration with the back-office accounting system, existing customers can pay bills, purchase products with their specific pricing, and receive suggestions of the best delivery day based on the customer's existing schedule.
PAINLESS INVOICING
Find orders, quotes, and invoices all in one accessible, easy-to-manage location. Send reminders and receive helpful alerts and announcements. Streamline payments with invoice templates and automated tasks. Automatically put lot codes in orders and invoices and collect payments with auto-pay schedules.
ERP & ACCOUNTING INTEGRATION
Use one accounting and sales distribution system to manage the welding business and run the operations more efficiently. The software supports additional modules including GL, Consolidated GL, AP, PO, Bank Rec, AR, and IC. Prism integrates with existing off-the-shelf accounting packages including QuickBooks, Microsoft Dynamics, Sage, SAP, and AccountMate to manage operational workflow.
---
Eliminate double entries and errors with seamless accounting integration.
Prism's Order Connector integrates the route accounting platform with your chosen accounting software, including popular options such as AccountMate, Microsoft Dynamics, SAP, Sage, and QuickBooks. Syncing your accounting software with Prism's ServQuest and MiniMate will help maintain up-to-date data across all devices and eliminate double entries.
Speak to one of our specialists about integrating your accounting software with our end-to-end route accounting platform.
Let's Talk