Prism Visual Software was founded in 1997 to automate and simplify complex scheduling and delivery operations. What began as an individual fix for companies like Water Boy, GrowNYC, and many others, became a well-rounded solution needed in the distributing market.
After incorporating, Prism Visual Software grew steadily, winning several awards for its end-to-end software and acquiring leading industry companies such as Big Geyser, Sabra, Reliant, Ronnoco, Shamrock Group, Parks Coffee, and many others. In 2007, Prism expanded internationally with its first overseas client, Oasis Water, the leading water distributor in Dubai.
In 2019, Iron Creek Partners led a recapitalization of Prism Visual Software with the mission of propelling the company forward to continue innovating and providing clients with the latest, cutting-edge product to grow their business.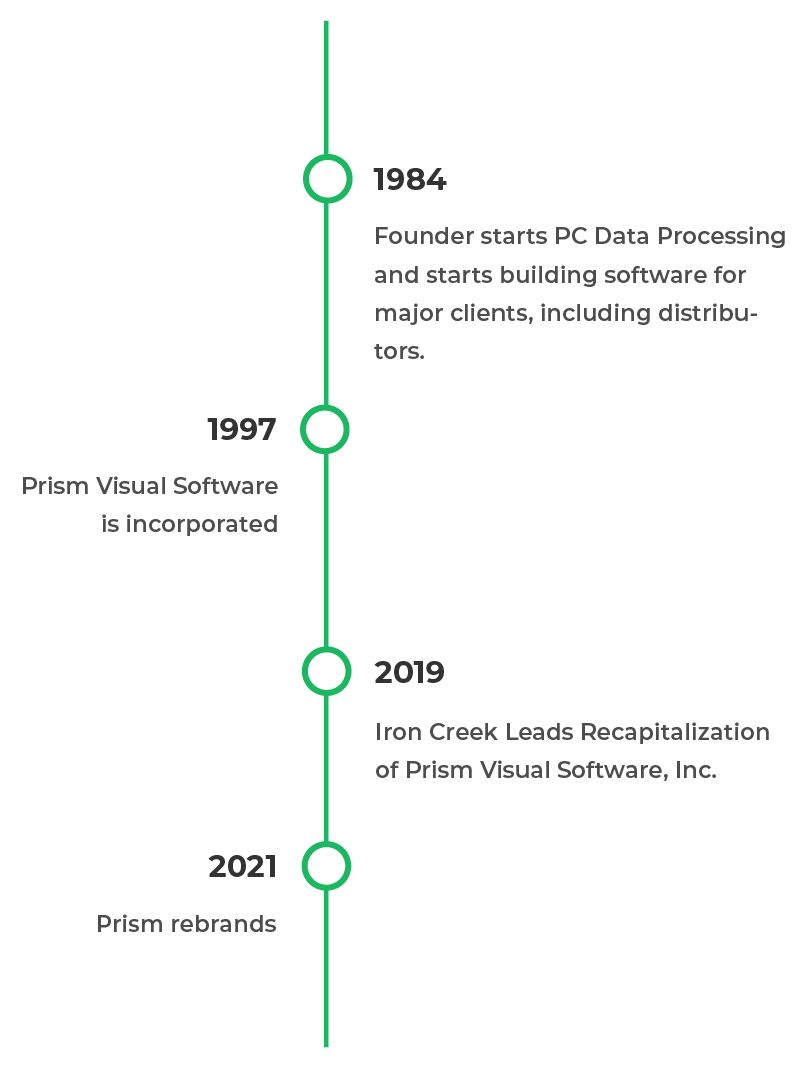 Our mission is to simplify and optimize the sales and distribution processes of distributors and service providers by delivering innovative, full-featured, software solutions that empower users to be more efficient, increase profits, and better serve their clients.

Bring efficiency to the distribution industry.

Our goal of being market leaders and innovators in this industry is guided by our commitment to customer success. We are constantly motivated by the fluidity of the industry and, as a team, meet each objective with our shared values in mind.
You can feel secure knowing that PrismVS is always looking to the future with proactive solutions for growth. With a spotlight on flexibility and agility, our software is constantly upgrading and evolving.
We are committed to authentically engaging with customers both as end-users and people. Teamwork is the crucial ingredient in PrismVS' culture.
Customer satisfaction is the foundation of our value system. We believe that actions speak louder than words and will demonstrate this belief through every effort.
Our software provides logistical solutions to ensure we distribute products efficiently. Through that efficiency, we contribute to the collective action of operating more sustainably.
We develop our team's talents and provide an environment where they can thrive.
We are committed to excellence and believe that we can do that only when we love what we do and have fun doing it.
JOIN OUR TEAM