ServQuest™ is Prism Visual Software's route management solution, consisting of a comprehensive, sophisticated, and intuitive desktop software package. As an electronic route book, ServQuest™ can schedule customer servicing for route sales, delivery, pre-order, and service. It offers both recurring schedules as well as "will call" emergency dispatch. ServQuest™ provides a delivery/service profile for every customer address, supports customer service agents to increase each sale, troubleshoots potential equipment problems, and provides superior customer service with or without automated scheduling.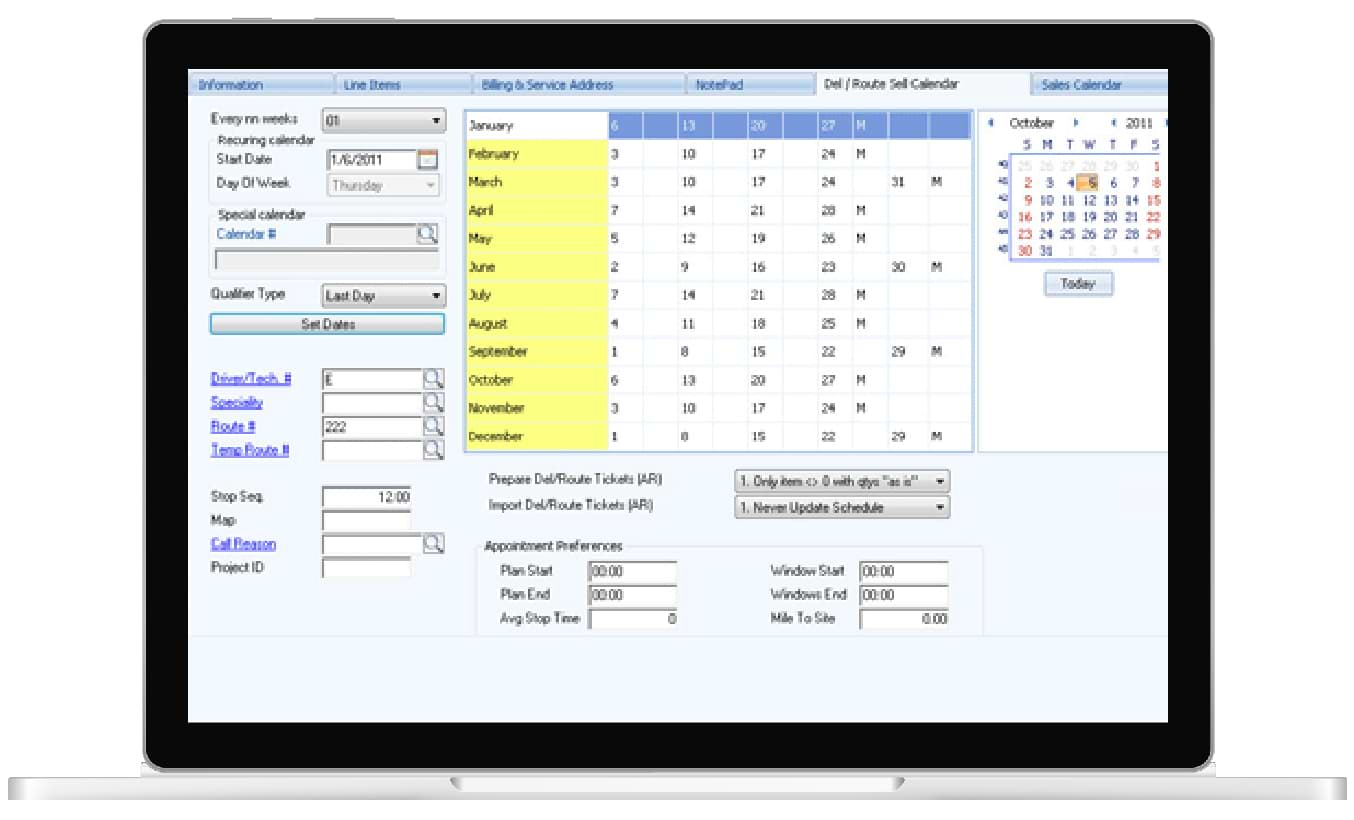 Why Choose Prism Visual Software For Your Mobile Android Solution versus another company?
Experience!
Prism's team, comprised of technology and accounting professionals, has served route accounting and equipment service companies for two decades. Over the years, Prism has learned what works and what doesn't to save minutes, hours, and days of labor for the mobile worker. Whether customers distribute food, bottled beverage, office coffee, 5-gallon water, perishable food, ice, or any DSD type, Prism's consultants will understand the customer's business when they walk in the door. Prism's team also has experience in water treatment, HVAC, first aid, beverage dispensing, and tank exchange. Ultimately, Prism and the customer work together to configure the software to create unmatched competitive advantages in the customer's industry.
Real-Time Data for Drivers or Service Techs
Mobile workers are equipped with delivery and sale instructions, contact information, sales history, current equipment, equipment history, account balances, and invoices.
Use driving instructions to the location with Google Maps.
Prevent drivers from servicing "stop service" customers and delivering to non-paying COD customers.
Delivery Drivers can track on-hands and returns while having visibility to past sale averages and par levels.
Service Anybody Anywhere With or Without a Data Connection
A standalone database on the handheld allows drivers and service techs to work without an Internet connection.
Last-minute orders and changes are automatically updated and dispatched to the Android device.
Perform on-route and off-route customer servicing, as needed.
Maximize Customer Sales
Set a minimum selling price for individual items with passwords needed to override.
Automatic calculation of promotions and discounts based on the time period and what is purchased. (7+1, 12+2, free case or dollars off, based on a product mix grouping)
Customer group contract or price levels.
Up and down the street pricing; every customer and item can have a different price.
Guide Workers with Standard Operating Procedures and Surveys
Pre-Trip and Post-Trip inspection surveys can be used for internal records or DOT inspection.
Ticket surveys can be mandatory to complete, based on the type of service or delivery.
The customer defines questions, and mobile workers can enter answers as numeric, text, or drop-down selections.
Track Mobile Workers
You can automatically track worker locations and times.
Understand customer servicing planned time versus actual time.
Invoices and Payments
Collect payments via cash, check, or credit card.
Collect payments for overdue invoices.
Print to a mobile printer, or email an invoice with equipment terms and conditions.
Enforce collection of store stamps, scan sheets, P.O., or signature.