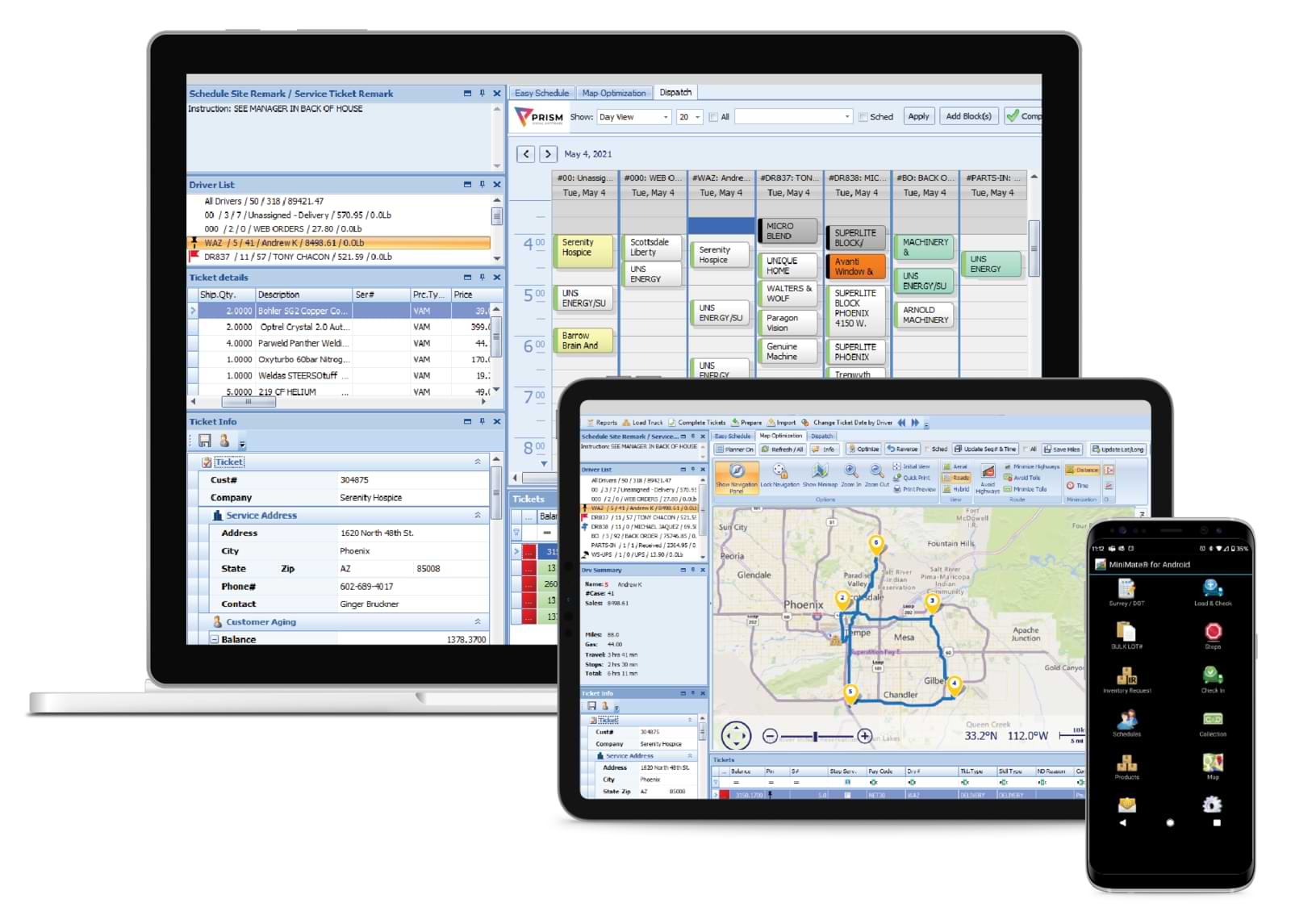 ---
Simplify and automate your day-to-day Equiment Service operations with an all-in-one field delivery management platform.
Manage Routes & Deliveries
Load Trucks faster & accurately
Plan, track, & optimize routes
Take orders & collect payments in the field
Equip drivers to service customers on routes
Manage equipment rentals and servicing
End-of-Day, pick-outs, & reporting
Inventory replenishment & traceability
Barcode scanning & lot control
Improve Customer Experience
B2B Web Store for self-service
Customer-specific pricing
Online bill payments
Automated customer communication
GET A QUOTE
We were upgrading to a new version of AccountMate and needed help moving our old service system to a paperless system. Prism was able to integrate the two systems together and customize it to meet our particular needs. Since the system has been set up, our service technicians have been able to help more customers by keeping them moving from site to site without having to stop and call when they finish a job. Creating invoices and ordering parts has become much more efficient since our move to PrismVS.
Tony Baioni, IT Manager
McCormick Equipment Co., Inc.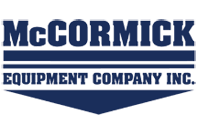 Prism sells a quality software product that organized my distribution business, reduced my fuel costs and reduced my labor costs dramatically throughout my business. I used 2 other route distribution software companies integrated with my QuickBooks before this and I should have chosen this one first. Prism has designed a leading Route Management, Scheduling and Visual Dispatch software to address the entire business both in the office and in the field. Their configurable software optimized my work flow to give me a full ROI in less than six months at my salt pumping company. The Prism team and the Prism Suite know the challenges of route sales distribution. I would recommend this software to any distribution company needing technology to cut costs whether you are pumping Co2, propane, or salt Like we do.
Bill Picard
Step-Saver Inc. Salt Pumping Systems

---
Grow revenue with an Equipment Service Software Platform that gives you greater control of your operations
SCHEDULING
Plan and adjust field employee workdays by taking in to account their experience and labor costs. Schedule sales representatives, drivers, service specialists, and equipment in one dashboard. View multiple schedules at a glance and monitor work order progress. Run vending alongside your services and manage all business lines in a preferred way.
ROUTE MANAGEMENT
Optimize daily routes and provide turn-by-turn directions to avoid obstacles and ensure drivers arrive on time. Organize fleet, maximize driver and service team efficiency, increase driver safety, reduce fuel and labor costs, eliminate risks of missed deliveries.
INVENTORY MANAGEMENT
Regularly view asset lists, manage customer rental fees, track equipment, manage warehouses, and control inventory levels all in a single, powerful, and easy-to-use software system. With detailed tracking know exactly where equipment is. Ensure product quality and reduce expiration events with traceability best practice on barcoding and lot tracking.
MOBILE APPS
Coordinate drivers and sales teams on-the-go for more effective operations in the field. Monitor customer order status, manage deliveries, track service specialist time, control business costs, and create quotes to sell products in the field with the MiniMateTM Android app. Issue email and print invoices, collect mobile payments, and capture customer signatures in the field.
PAINLESS INVOICING
Find orders, quotes, and invoices all in one accessible, easy-to-manage location. Send reminders and receive helpful alerts and announcements. Streamline payments with invoice templates and automated tasks. Automatically put lot codes in orders and invoices and collect payments with auto-pay schedules.
BUSINESS REPORTING
See how your business is running with detailed, real-time reports. Get visibility into business data and control every aspect of your operations to prevent costly inquiries and recalls. Identify where you are making and losing profits. Use historical data on product consumption, sales analytics, and live progress to discover future trends and increase income.
SYSTEM INTEGRATION
Run your business operations more efficiently with a software that integrates with your accounting system, giving you the flexibility to automate and optimize most delivery and service operations. With the accounting system integration, you can manage routes, track delivery inventory, support sales, and improve finances top to bottom.
---
Eliminate double entries and errors with seamless accounting integration.
Prism's Order Connector integrates the route accounting platform with your chosen accounting software, including popular options such as AccountMate, Microsoft Dynamics, SAP, Sage, and QuickBooks. Syncing your accounting software with Prism's ServQuest and MiniMate will help maintain up-to-date data across all devices and eliminate double entries.
Speak to one of our specialists about integrating your accounting software with our end-to-end route accounting platform.
Let's Talk